Meet Our Winston-Salem Chiropractor
Hanes Mall Blvd. in Winston Salem, North Carolina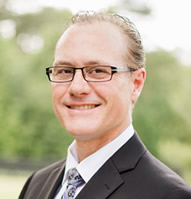 Dr. Jonathan Locke, DC
Dr. Jonathan Locke, DC began his career in Sports Medicine as a Certified Athletic Trainer and Certified Strength and Conditioning Specialist.  After several years working at the High School and College level, he found his passion in chiropractic care.  Dr. Locke attended Sherman College of Chiropractic in Spartanburg, SC.  Upon graduation in 2005, he pursued an opportunity to learn from an experienced Doctor in Jacksonville, NC.  Since then, Dr. Locke has worked in his own private practice and other group clinics treating patients of all ages.  In 2021, he had the opportunity to move back to the Winston Salem area.  
Dr. Locke has a passion for continuing his education and he enjoys speaking at public events on ways to improve ones overall health and wellness.
Dr. Locke, his wife, Angie, and their son, Ashten, enjoy traveling, walking, gardening, spending time with family and playing with their dogs.
We are excited to have Dr. Locke's sixteen years of experience and positive energy on our team.